About
MOSCOW HI-END SHOW - the first specialized Russian exhibition focused on pure High End Audio. Successful premiere of the exhibition was held in 2012.
The concept of MHES - promoting the ideas and values of High End Audio: high quality music performance, natural connection of High End Audio with engineering art and musical culture.
Your applications to exhibit at the show, please, e-mail at: galina@hiendshow.ru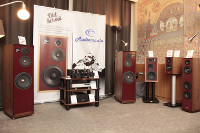 Main features of Moscow Hi-End Show:
• Premium segment of home audio market : the main content of MHES are Hi-End home audio systems; this exhibition aims to demonstrate high-quality music reproduction in a comfortable environment as close to home as possible;
• Exhibitors - distributors, manufacturers, installation companies and dealers to promote products and services in the field of High End Audio;
• Target audience - all lovers of music and high quality audio, market professionals : distributors, manufacturers, dealers, stores, installation companies, representatives of related professions and industries, specialized media;
• Moscow Hi-End Show is held at the Holiday Inn Tagansky ****, located in the central area of Moscow with convenient transport access and spacious suites and rooms, convenient to display and listen to the audio systems of other participants;
• Geography of visitors - Moscow and Moscow region, Russian regions and foreign countries.
Photo reports:

Photo report on MHES 2018 (part 1, part 2)

Photo report on MHES 2017 (part 1, part 2, part 3)

Photo report on MHES 2016 (part 1, part 2, part 3)
Contacts:
project Director – Sergey Sorokin, mhes@hiendshow.ru
executive Director – Galina Kindt, galina@hiendshow.ru
Gratitudes:
Our partners:
Присоединяйтесь, чтобы не потерять!