Moscow Hi-End Show 2017 resume
Moscow Hi-End Show 2017 - the main event of the Russian High End Audio market - was held from 10 to 12 November

The 6th show MHES® reflected the state and trends of the Russian market of high-quality audio. As in previous years, the show was informative and eventful.
26 companies took part in it. At least 30 different audio systems were presented at the show. А wide selection of high-quality headphones in the price category from 20 to 350 thousand rubles was demonstrated. More than 70 premiers of new brands and models have taken place: electronic components, acoustic systems, portable audio and cables.
The compact show MHES 2017 reflected all he significant global market trends: advance of digitalization on one hand and on the other a stable demand for vinyl and its many corresponding devices, the growing popularity of headphones and wireless technologies.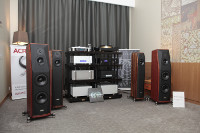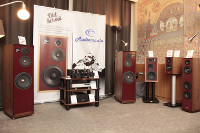 Activities
The Holiday Inn Tagansky hosted numerous seminars and presentations for MHES visitors and Simonov Hall was again filled with live music which had Mikhail Shostak play accordion accompanied by his usual trio of a flutist, a double bassist and a pianist.


Geography of visitors
According to the statistics of visitors, the Moscow Hi-End Show from the local turned into an all-Russian one. The number of guests from the regions (from Petrozavodsk to the cities of the Urals and Siberia) increased by 48%. In total, the exhibition was visited by 2900 guests, 30% of whom visited MHES for the first time. The majority of visitors were end users who chose high-quality audio equipment for the home (75%), in 2.5 times increased the number of professionals, especially Russian audio designers and specialists of various services: installation, acoustic treatment, repair, restoration, etc.
Moscow Hi-End Show, MHES® was and remains a highly specialized exhibition. Optimal framework and reasonable sufficiency of the exhibition allow to look, listen, and make a deliberate choice not only experienced audiophiles, but also newcomers who visit MHES for the first time.
Many thanks to the participants and guests of the exhibition for their interest and support of the Moscow Hi-End Show! We look forward to seeing you next year at MHES 2018!

Присоединяйтесь, чтобы не потерять!