MHES® - the first Russian show focused on High End Audio - celebrated the first anniversary
For 5 years, over 100 companies participated Moscow Hi-End Show, MHES®, more than 500 foreign and domestic brands has been demonstrated at the exhibition. The popularity of the exhibition is growing. Each year MHES presents new exhibitors - manufacturers and distributors. Interesting premieres, high-quality audio installations, live performances, educational activities - all this attracts new visitors to the Show from all over Russia and abroad.
From 18 to 20 November 2016 the traditional autumn show, focused on High End Audio, gathered under the roof of the Moscow Hotel Holiday Inn Simonovsky 35 member companies: manufacturers and distributors, dealer s of analog and CD records, publishers and sellers of literature about music.
Notable news this year was a significant increase of Russian manufacturers, making approximately 30% of the exhibitors. Effective presentations of audio systems and electronics attracted crowds of visitors to the domestic audio designers - their listening rooms sometimes do not have enough space for everyone.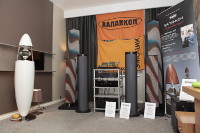 Premieres and novelties attracted visitors to the stands of distributors of foreign brands. Their rooms presented brand new models of the well-known and niche brands of High End Audio:
TAD, Musical Fidelity, McIntoch, Sonus Faber, Gryphone Audio Designs, dc10audio, D?hmann, Amphion, Peak Consult, Stromtank, Acoustic Signature, Montana, Taoc, Estelon, Blue Aura and many others listed in a special edition of "Premieres MHES 2016".
Moscow Hi-End Show 2016 was attended by 2600 guests from Moscow, Moscow Region, St. Petersburg, Yaroslavl, Saratov, Voronezh, Tver, Penza, Smolensk, Taganrog, Nizhny Novgorod, Vladivostok, Goronoaltayska and other Russian cities, as well as from Belorussia. 90% of visitors were end-users looking for high-quality sound reproduction of music at home.
Increased demand for vinyl records and CD was evident this year in the rooms of vinyl-boutique. The number of new visitors from the regions have increased. This is not surprising, because our vinyl and CD dealers are able to satisfy the most sophisticated requests of fans both analog and digital audio.
Exposition of portable audio has been expanded by premieres brands Schiit Audio and Astell & Kern. Demonstrations top kit Schiit Ragnarok / Yggdrasil combined with a brief excursion into the history and ideology of the company held the chief editor of "What Hi-Fi?" Michael Borzenkov.
For the first time at the Moscow Hi-End Show we organized a free seminar "Means for better sound audio system". The seminar by Chief Editor SalonAV, Nikolay Efremov received excellent feedback from participants. The practice of such training will be continued at the next show.
Traditional free admission concert was held in the hall of the "Simonov" to a full house. Alina Rostockiy and her jazz band Jazzmobile performed the program "Golden Jazz Standards".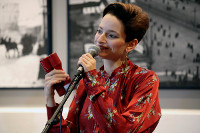 We thank the participants and guests of Moscow Hi-End Show for their interest and support for our project. We look forward to seeing you next year at MHES 2017!
Direction MHES®
Присоединяйтесь, чтобы не потерять!